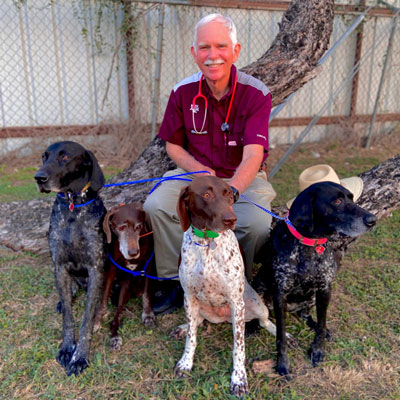 A Valley native, Dr. Macmanus was born in Raymondville, grew up in Harlingen, Rio Grande City, and San Benito, with short stays in Leesville, LA and Columbus, GA. He graduated from Harlingen High School and was accepted into Texas A&M University. Here he became a member of the Corps of Cadets and the Student Senate while earning a Bachelor of Veterinary Science and a Doctorate in Veterinary Medicine.
Upon graduation in 1976, he entered the United States Army Veterinary Corps and remained on active duty for four years while stationed at Carlisle Barracks, PA. At the end of his active duty service, Dr. Macmanus returned to the Valley, accepting an associate position at The Valley Animal Hospital.
He is a member of the American Veterinary Medical Association, the Texas Veterinary Medical Association – where he previously served as a District Director for eight years – and has been the Treasurer of the Valley Veterinary Medical Association for 20 years. He has worked extensively with the 4-H program in Hidalgo County. He served as the Director and the President of the Hidalgo County 4-H Foundation. He has also served on the board of the Upper Valley Humane Society.
Dr. Macmanus enjoys life with his wife, three daughters, and three grandchildren, and of course, his pets Gypsy, Zoey, Ox, Maggie, Katniss, Macie, and Bo. His hobbies include dog training, fishing, raising vegetables, and archery. He has coached the Hidalgo County 4-H Archery Team since 1996.