The holiday season can be an exciting time filled with celebrations and vacations. However, it can be a bit tricky if you choose to travel with a pet. Doing so can be even trickier if you intend to fly. Airport regulations have recently enacted stricter flying policies for pets and our veterinarians encourage you to research these policies before purchasing your tickets. Learn more about what you should consider before choosing to include your pet in your travel plans.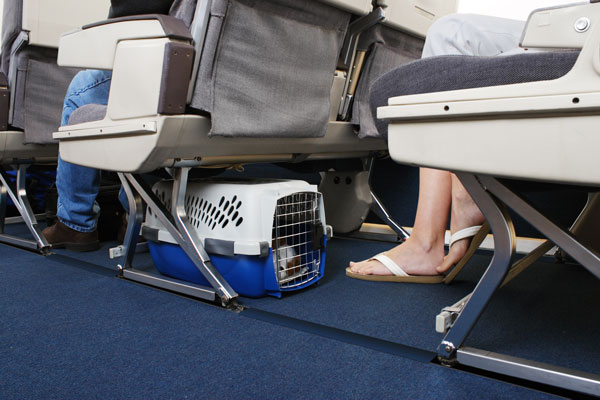 Learn About Pet Travel Regulations
Did you know that some airlines don't allow pets of any kind to travel on their flights? On the other hand, others prohibit specific breeds of dogs and cats and require large pets to travel as cargo.
Everyone's travel situation is unique, so it's necessary to contact your preferred airline for clarification on their pet travel rules. Fortunately, some airlines do allow pets (other than for emotional support and service animals) to travel in-cabin on flights.
Most airlines allow in-cabin travel so long as the pet:
Weighs 15 pounds at most. This includes their carrier.
Is in a carrier that fits under the owner's seat or meets specific dimensions provided by the airline.
Has been issued a USDA health certificate approved by their vet. This confirms that the animal is fit for travel.
Special Requirements
Check with our veterinarians well in advance of your planned trip for the most up-to-date requirements for the state or country you're traveling to. Many countries (including Mexico) require health certificates to be endorsed by a state veterinarian which requires sending the document to the USDA for endorsement.
This requires an extra fee and can take from a few days to over a week to send and receive. Current rabies vaccinations are always required, but some countries require more than one to be given. In addition, some countries also require blood tests, waiting periods, special forms, and some hefty fees for bringing pets into their country, so it's very important to plan your trip well in advance.

Create a Travel Plan
If your pet meets all airline requirements, then the last step is to create a travel plan for the day of takeoff. Ensure that their carrier is fully prepared for the trip. Also, reinforce the carrier with a blanket or towel in case nature calls during the flight.
You can also prep your animal for the big day by:
Confirming with the airline at least a day before that your pet will be traveling with you.
Asking our vets if anything will be needed to make your pet's trip more comfortable.
Also, consider microchipping your pet as a security measure so they can be recovered if lost.
Set Up Your Pet's Appointment Today!
Contact our animal hospital to determine if your pet is healthy enough for travel. Our pet doctors can give your furry loved one a checkup and also provide steps to ensure your pet's well-ness while traveling.